I saw this little pool of sunlight on my kitchen floor the other day, and thought it sort of looked like a glowing, lopsided heart. I'm probably the only person in the world who would think that was interesting enough to snap a picture…
Anyway, I'm reading a great book right now called "The Shadow of the Wind" by Carlos Ruiz Zafon. It begins when the narrator, Daniel, is a young boy and his father takes him to a mysterious place called "the Cemetery of Forgotten Books." I love how the author describes it, conjuring up images of labyrinthine corridors filled with rows and rows of books – so many books you could get lost in the shelves. It sounds like the kind of place I would've dreamed of escaping to when I was a child – actually, it STILL sounds like a place I'd love to escape to now and then.
Thinking about rows of books reminds me of my very first job at the public library in Sparta, NJ. I started out as a volunteer the year after high school graduation – something to fill my time while I tried to decide where and when to go to college. But it wasn't too long before I was offered a paying job as a library page. And yes, that was the actual job title – "page." I always thought it was funny to be called a page in a library. Just a page among all the other pages. I spent my time re-shelving returned books and getting much-too-well acquainted with the Dewey decimal system. I still know that if you're looking for a book on religion, you should look in the 200s. Science? Try 500s. Arts? Drawing? Photography? 700s. Classic drama and poetry? 800s. And some of my favorite subjects – maps and geography – 900s.
Sometimes I would work behind the front desk, pointing people in whatever direction they needed to go and helping check out books. (I just loved using that "due back by" stamp…) Dealing with the public has never been my strong suit, and always seems result in awkward moments. One in particular that really stands out in my mind is a day when I was standing at the counter nearest the front door, and a man walked in and stood in front of the desk. He stared at me for a good ten seconds without saying anything, looking completely flustered and confused and apparently attempting to form words that never actually materialized. I wasn't sure what I was supposed to do, so I stood there with what I can only assume was an encouraging smile on my face. He finally said, "you look really nice in that sweater" (who WAS this guy??) and then proceeded to ask me a question about copyright law. Fortunately, one of the older librarians had overheard everything and came to my rescue. I think this man wasn't entirely "there," if you know what I mean. I can't imagine ever looking so good in a sweater that I literally strike a man dumb – but hey, I guess I can dream… :)
Eventually, I was promoted – well, on Fridays, at least. Friday afternoons I was in charge of the entire children's section of the library. It was a great job, because it was usually very slow, very quiet, and I was surrounded by reading material. It was while I was working in the children's section that I discovered books by Chris Van Allsburg – the author of "Jumanji," "The Polar Express," and, my personal favorite, "The Mysteries of Harris Burdick." The latter is a book filled with strange illustrations and equally strange captions – it's nothing but a book to fuel imagination and spark creativity. I also discovered Ellen Raskin, who wrote the Newbery Medal-winning "The Westing Game" as well as "The Tattooed Potato and Other Clues" and "The Mysterious Disappearance of Leon (I Mean Noel)." All of which I read while I was "working" at the library, and I'd highly recommend them for readers of all ages. (I have no idea when I turned into a literary critic…)
These days, the closest I get to the "Cemetery of Forgotten Books" is wandering aimlessly through the shelves of Barnes and Noble. However, Barnes and Noble has an advantage that Carlos Ruiz Zafon dared not imagine for his fictional book repository – a Starbucks. And there's nothing better than the smell of books and coffee in the morning... :)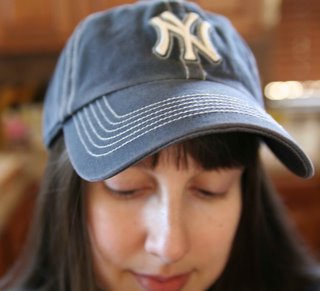 This picture has nothing to do with anything... I just like my new Yankee hat...